LINK |

Top sponsorship contract for the FEI European Champion Bram Chardon ... the global company John Deere, represented by the Dutch dealer
Kraakman BV, has signed a cooperation with the four-in-hand team Bram Chardon. Bram Chardon's new team colour is green/yellow.
Bram Chardon - the reigning FEI European Champion, FEI World Cup ™ Champion 2019, team vice world champion of four-in-hand horses as well as two-times FEI Individual and Team World Champion of pony four-in-hand horses - has a new partner in the planning for the upcoming challenges.
Kraakman BV is the largest John Deere dealer in the Netherlands, with offices in many provinces in the country. Kraakman has a company motto - they focus on quality and professionalism.
Predicates that are perfectly implemented by the Bram Chardon driving team. The 27-year-old Bram is a talented driver who focuses on the sport in a very professional manner, and his successes - from adolescence - speak for themselves. The horses in the competition teams - outdoor and indoor - are of high quality, in terms of suitability, education and training.
Bram Chardon: "We are very pleased about the new cooperation with John Deere | Kraakman BV. It is a very important and positive input for the entire equestrian sport when a global company like John Deere is willing to get involved in driving sport.
Especially now, after the very challenging year 2020 for all of us, it is a great "motivation kick" for my entire team, to look forward to the 2021 season and to prepare ourselves as best as possible for successful competitions again, with a new team sponsor "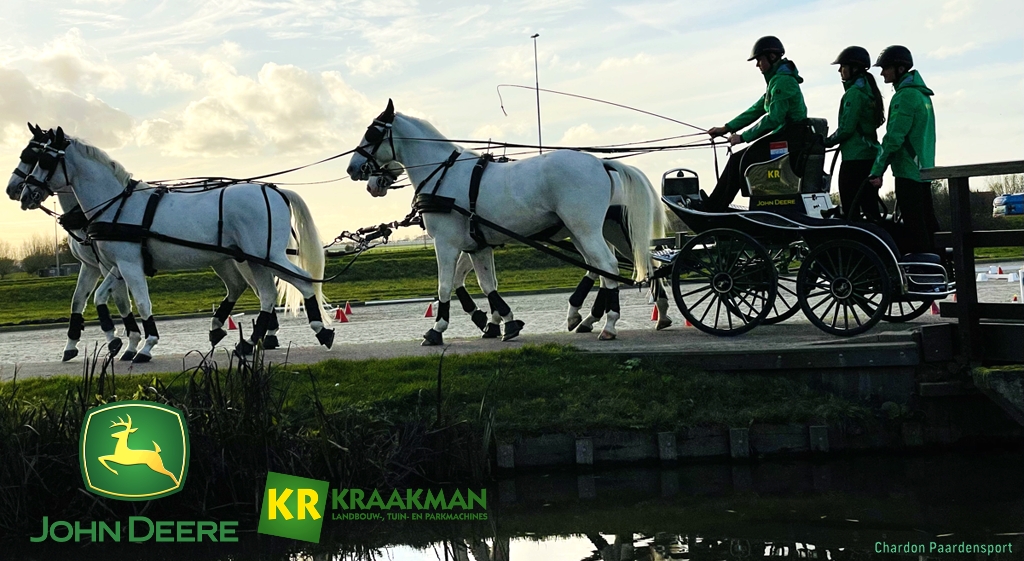 Driving has so many facets - so much potential, and for a sponsor like John Deere there are many parallels. Be it the machines for the maintenance and management of the equestrian facilities or for the production of fodder, at John Deere there is optimal technical support.
Bram Chardon's new team color is green.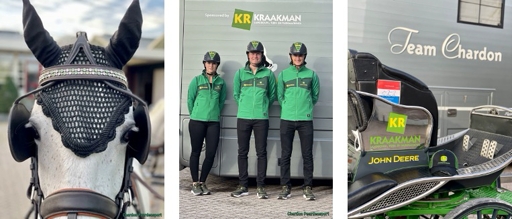 Green is the colour of nature and also stands for renewal and growth. The lucky shamrock is green ... the best conditions for success!
A new style that has been implemented down to the smallest detail - the sparkling green headbands of the horses. Team outfit and marathon carriage are ready for the coming season in a new outfit.
We wish Bram Chardon's team, together with John Deere | Kraakman BV, many successes in driving, and we are looking forward to seeing great competitions again.
Bram Chardon - Sponsor John Deere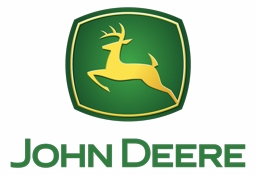 The American global corporation John Deere is one of the leading manufacturers in the global agricultural technology market.
The company's other products include forestry machines, construction machinery and equipment for lawn and property maintenance, which are offered worldwide through an international sales network.

Kraakman BV is a John Deere dealer in North Holland, South Holland, Utrecht, Zeeland, Limburg and part of North Brabant and Gelderland with currently branches in Southeast Beemster, Middenmeer, Koudekerk and Rijn, Voorhout, 't Zand, de Kwakel, Lieshout, Haelen, Wijchen, Wittem, Soesterberg, Biervliet, Steenbergen, Wolphaartsdijk, Maasdam and Nieuwe-Tonge.